Iron Man
Vital statistics

Real name

Peter Parker

Alias

Spider-Man
Age
20
Species
Human
Production details

First appearance

Castaways #1
History
[
]
Home Reality
[
]
In his home world, Peter had been losing his powers after a battle with Anti-Venom.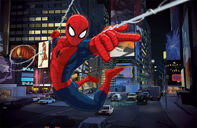 After they were completely gone, Peter paid Tony Stark a visit. Tony had been wanting to quit the superhero business so he could start a family. Tony gave Peter access to his armors and trained him how to use it. Peter then became the new Iron Man.
Castaways
[
]
Peter was one of the original six Castaways. He was the first one teleported into the Jungle Beyond Space and Time. He met up with the other five heroes teleported to the strange place and they found a diner lying by a swamp. After entering they discover a middle-aged man within the diner. He calls himself the Timebroker and explains their situation.
After that, the Castaways are shipped off to their first mission. In this world World War 2 was won by Red Skull and HYDRA. He was still alive and running the world. They broke off into three teams to sabotage the three possible locations he could be in, as their mission was to kill Red Skull and free America from his clutches. Peter was paired with Giant Girl. The two of them went to the wrong location and ended up fighting an army of robots instead. In the end, it was the Trickster who died saving America, taking Red Skull with him. He was then replaced by Jean Grey (Castaways).
Other Missions
[
]
Trivia
[
]
Peter has stated that his favorite band is the All-American Rejects
He is in a reationship with fellow Castaway, Giant Girl.
When Spider-Girl joined, he formed a father-daughter relationship with her, because, in a sense, he is her father.
During a few missions he seems to have short moments where his spider powers return to him.